When you're looking for a great location for a desert hike, with plenty of Sonoran Desert flora (and maybe some fauna), one of the best places to do this is in the Saguaro National Park's West Section. Hiking trails abound, and the park's interpretive/educational center is exceptional. While there is plenty to do at Saguaro West NP, this blog is about the hiking trails.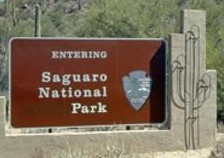 Let's start off with these very popular trails, Cactus Wren and Manville Trails. Starting at the Signal Hill picnic/parking area, the Cactus Wren and Manville trails cross nearly flat terrain in the northwest corner of the Tucson Mountain section of Saguaro National Park, all of which is very densely covered with the usual plants of the Sonoran Desert, including palo verde, desert ironwood, and innumerable tall, aged saguaro.

The two paths link again at the far end to form a four mile loop, also incorporating the hill itself, a minor summit formed of granodiorite boulders, covered with hundreds of Hohokam petroglyphs, up to 800 years old. After the hill, and a connected ridge, most of the loop crosses open plains, still with long-distance views, the only exception being the last part of the Manville Trail that runs along the floor of a dry, sandy wash beneath low banks.
Next up is the Gould Mine Trail. The smaller west section of Saguaro National Park has a good selection of footpaths, longest being the Hugh Norris Trail to Wasson Peak, but most are shorter and less steep, crossing flat land or mountain foothills, giving both long distance vistas and close-up views of the varied Sonoran Desert plantlife. One route with an added attraction is the 1.1 mile Gould Mine Trail, which climbs gently up a ravine to the site of a long-disused copper mine, where relics include colorful tailings piles, two shafts and a stone cabin, plus scattered pieces of wood and ironwork.
The path to the mine is often combined with part of the King Canyon and Sendero Esperanza trails to create a 2.5 mile loop; an easy hike that can be completed in not much more than an hour. Also en route is the Mam-A-Gah picnic area, scenically situated on a small hill, looking west down King Canyon to Avra Valley, and east across the upper reaches of the Tucson Mountains.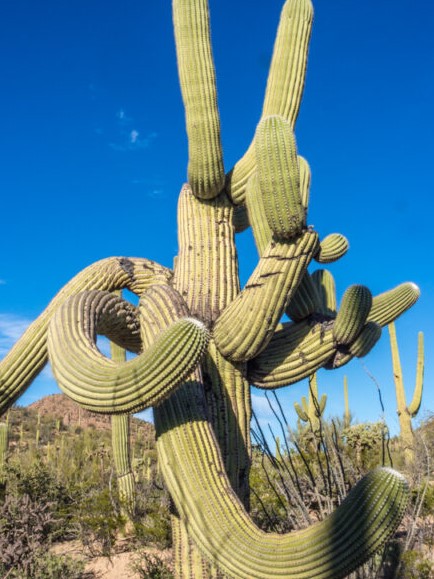 The Signal Hill Trail is the shortest trail in Saguaro Park West, but is probably the most historically significant due to the petroglyph markings. Signal Hill is a minor summit in the northwest corner of the Tucson Mountain district of Saguaro National Park, rising just 50 feet above the surrounding, gently sloping plains, and is mostly covered by large boulders of granodiorite, an igneous rock similar to granite. The top of the hill has excellent views, extending over 20 miles in some directions, but the main point of interest here are dozens of petroglyphs carved on the surface of the grey and brown rocks, dating from the Hohokam period that peaked in the 13th and 14th centuries, possibly left here during hunting expeditions, as the low hill would have enabled a place to hide when looking out for prey.
Information about the Hohokam, and the local area, is given by interpretive notices along the way, and although the place can be visited in just 20 minutes or so, continuation hikes are possible along the linked Cactus Wren Trail. Most people just walk to the summit, however, and perhaps enjoy lunch at the adjacent picnic area.
Since the park is crossed by several public highways, some areas can be seen without payment though the $25 entry fee (per vehicle, in 2022) is required for any hiking or travel on unpaved roads. There is no campsite within the park, and backpacking is not permitted, so for overnight stays, options are either paid campsites in nearby towns, hotels in Marana and Tucson, or free camping on BLM land, such as beside the Manville Road entrance to Ironwood Forest National Monument, 10 miles to the west.
The park visitor center and headquarters includes an educational and interpretive center manned by volunteers with ages of knowledge and experience. This is also where you go to purchase your park pass. If you are a senior, inquire about the permanent pass for seniors.
As with all of our desert outing blogs, please remember to wear a hat, use sunscreen liberally, bring and drink plenty of water and always let someone know where you are going and when you expect to return.
From Marana, take N Tangerine Farms Road to West Tangerine Road, then onto I-10, to Cortaro Road to Picture Rocks Road. The Park is just under 20 miles from Marana, and is just about equal distance between Tucson and Marana.
The closest Marana neighborhoods are Happy Acres South, Milligan's Acres and Saguaro Springs.
Always On Call!
Put my 20+ years of real estate experience to work for you!
Contact me 7 days a week including evenings to discuss real estate.

https://www.facebook.com/RichmanTucsonHomes/