Wild Burro Trail begins just beyond the Ritz-Carlton's parking lot. You don't have to be a guest there; simply pass through the hotel gate, where you'll be directed to a dirt parking lot. Be sure to grab a map if the hotel parking attendants are onsite, as it will be helpful in planning your journey. Although a map is always recommended for any hike, Wild Burro Trail is well marked. You should easily be able to find your way around this trail, or any of the routes it leads to, by following the markings along the way. In all, the simple route is about 3.5 miles, and you should plan for about 1 ½ hours to make the journey.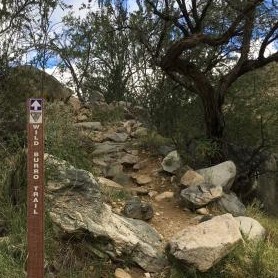 Wild Burro Trail heads north on a graded dirt path for .5 miles, weaving in and out of the nearby wash; you will encounter a kiosk and sign- in station as you continue north on the west side of a sandy wash. The trail gets slightly more rugged as you veer west up the side of the canyon near the ruins of a stone house and water basin that was once used by cattle ranchers. After which, you begin a steep climb. This is the only strenuous climbing on the entire trail. Once you reach the top, there is dramatic dry waterfall, large cottonwood tree and the Alamo Spring well. Remains of another dwelling are viewable behind and to the west of this area. The view from the overlook is impressive. Past Alamo Spring well another 2.3 miles of trail leads to a water tank, windmill and goat corral near the Pinal County line.
The first Europeans in the canyon were Spanish adventurers seeking precious metals. The mining boom took off in the 1860's, and miners flocked to the area bringing horses and burros. Some of these escaped or were left to become feral in the area - hence the canyon's name. Homesteaders occupied the canyon – most colorful being Thomas Jeffords from 1892 to 1914. He was a Blood Brother of Apache leader Cochise and the tribe's first Indian agent (if you're old enough, you might recall a TV show called Broken Arrow, about their relationship.)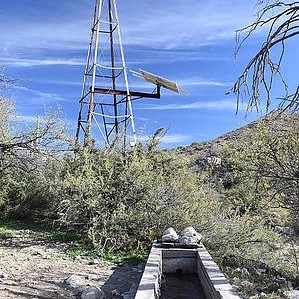 The beginning elevation is 2,800 feet. Once you've got a couple of miles on the very easy coarse sand trail, you'll have the option to branch off to other routes. An old, ruined stone farmer's house will be your mark once you've walked about two miles. At this point, the trail becomes steeper, but it quickly lends its way to a canyon overlook with a nice shaded area where you can catch your breath, set up a picnic, and enjoy the scenery.
Reaching the Wild Burro Trail is easy from Marana. Take the I-10 East, exit onto Tangerine Road, drive east 5 miles to Dove Mountain Boulevard. Take Dove Mountain Boulevard north to the round-about, then take your first right. Continue past the gatehouse (get a map there if the guard is present) and proceed to the dirt parking lot. Marana Parks Department has the trails clearly marked and color coded.
Please be sure to heed our usual desert environment adventure warnings. Wear good quality shoes or boots, bring and drink plenty of water, wear a hat and sunscreen, and please let someone know where you are going and when you expect to be back.
There are several really classy neighborhoods close to the Wild Burro Trailhead, to include: Dos Lagos at Dove Mountain, Los Saguaros at Dove Mountain, The Gallery, The Highlands at Dove Mountain, and of course, the Ritz-Carlton Residences.
Always On Call!
Put my 20+ years of real estate experience to work for you!
Contact me 7 days a week including evenings to discuss real estate.