Looking for a chance to go back in time a little bit? Back to the Old West? How about a trail riding session at one of the premier facilities in Southern Arizona. If riding well cared for and well trained rescue horses appeals to you, Way Out West Ranch is your destination.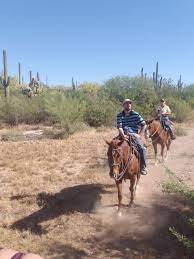 Way Out West Ranch is a small, family owned equestrian facility, featuring well cared for, and well behaved, rescue horses (and other rescue animals.) Social media reviews for Way Out West are glowing, especially the tour guide/wranglers, and for the livestock. You can book a visit, or ask questions via wayoutwestranch@gmail.com. You can check Groupon for coupons as well.
Located just a (country) short distance from Rancho Del Norte, McAfee, Picture Rocks Estates and Howrey neighborhoods, Way Out West Ranch is a gem in the desert.
Always On Call!
Put my 20+ years of real estate experience to work for you!
Contact me 7 days a week including evenings to discuss real estate.

https://www.facebook.com/RichmanTucsonHomes/